Along with the rest of the world, I watched the spectacle of the Oscars yesterday.
Today's the day we get into the nitty gritty of reviewing the minutia of the outfits, accessories, shoes, handbags, and also the 'other handbags', the partners of the stars.
But I'm experiencing a fashion come down, faced with the reality that a Versace dress and a red carpet are not in my distant future.
For the ordinary – yet fabulous – women like us, can we get any style inspiration from the Oscars whoo hah?
Or is it just part of fashion dream land?
Try these Oscar looks those non-red-carpet days.
The chignon.
Messy chignons were prominent at New York Fashion week, along with braids, and Mila Kunis was not the only one sporting a more groomed version of this at the Academy Awards yesterday.
Surprisingly easy to create, and great for those days when you havn't had time to wash your hair.
Click here for a quick 4 step guide.
Tangerine.
Get thee to the fruit bowl and add this colour to your outfit any way you can!
A few weeks ago I picked up a bright tangerine nail polish and gave myself an at home pedi. There is something about this colour that brings out the best in a light tan, and makes your feet look at least 43% more attractive (I can vouch for this as I have particularly ugly feet, and with this colour on my toenails, I am slightly less likely to hide them).
Converse.
Best Supporting Actress nominee Hailee Steinfeld changed into her Converse for an after party last night, and it is little wonder given the amount of time these actresses spent in their heels yesterday.
Voted the second favourite shoe by mothers in the Fox in Flats survey on motherhood, a pair of Chuck Taylors can add style and comfort to most of your playground outfits.
I'd leave the pink fairy dress for your little girl though.
Bottled water.
Ok, so perhaps I'm grasping at straws a little, pardon the pun, but had to include this shot.
A celebrity spotted consuming food and drink. Who knew?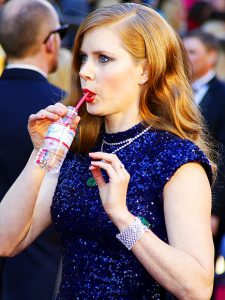 Did you notice anything at the Oscars you could wear for the day to day?