There is something about the Brogue – or Oxford to some – that makes me wanna dance.
Sorry for the bad pun in the title, but even Madonna and her dancers are rocking their brogues in the Video clip for 'Vogue', so I'm thinking these babies just might even make you dance better.
Brogues are filling the shelves of shoe stores, and magazines are running pages featuring different variations, lovingly photographed.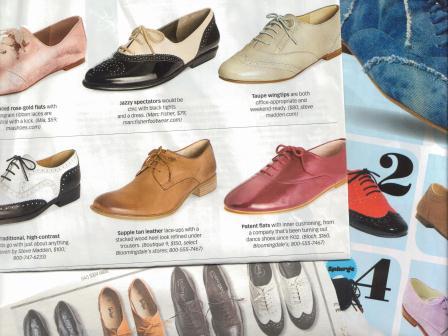 I get it.
They are 'in'.
Again.
I had a pair last time – circa 1987 – which I proudly wore with a pair of baggy (and I mean baaaaaaaaaaaggggggyyyyyyyy) black pants, a Tee, suspender overalls, and a long black trench.
The only thing distinguishing me from Charlie Chaplain was my lack of facial hair, and my spiral perm.
Now they are on trend again, I'm thrilled.
I completely buy into the idea of the brogue.
On paper, they could just be shoe nirvana for mothers.
They add a polished element to an outfit, unlike say, a sneaker or running shoes.
They are more substantial than a ballet flat.
And because they're lace-ups, the chances of one of those pesky playground wood chips making their way into my shoe and between my toes are much more remote.
Oxfords, 5 ways.
So, fellow mothers, here are five ways to get the most out of your brogues, if you do indeed decide to partake of the trend this time around.
1. As a general rule, flash a bit of ankle.
Wear them with skirts, dresses, footless tights, shorts or cropped pants (anything that shows at least a bit of ankle). You will get a good balance and sense of proportion in your outfit.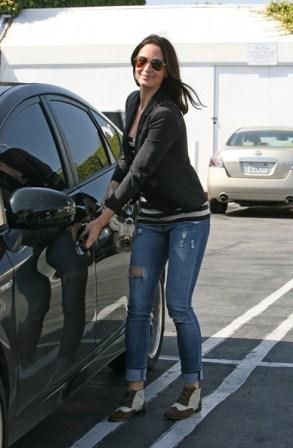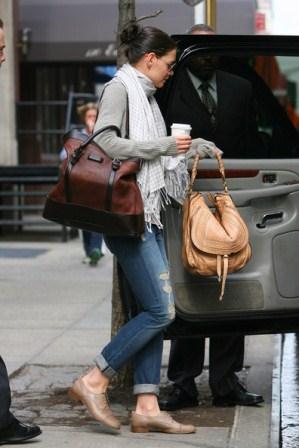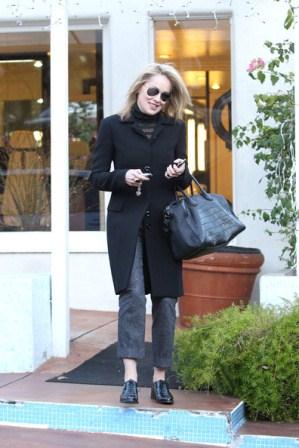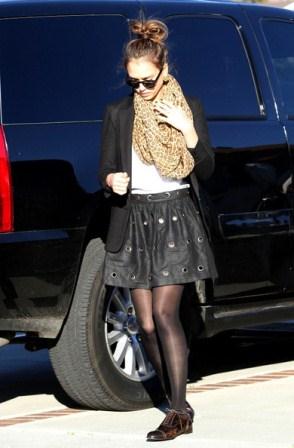 2. If you've got some wide legged, tailored pants, or even bell-bottom jeans in your wardrobe, consider channeling Diane Keaton in Annie Hall. Classic. Cool.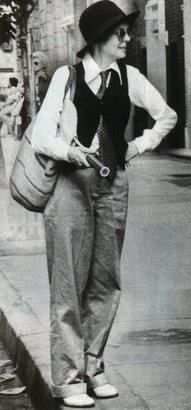 3. Always balance the masculinity of the shoe with feminine touches. Pretty jewelery, a floppy hat, bright lipstick or floral prints work well. You'll get that quirky, pretty look that's all over the catwalk.
4. If you have legs like Agyness Deyn or Alexa Chung, team them with long skinny jeans, or short shorts, and flaunt it while you've got it!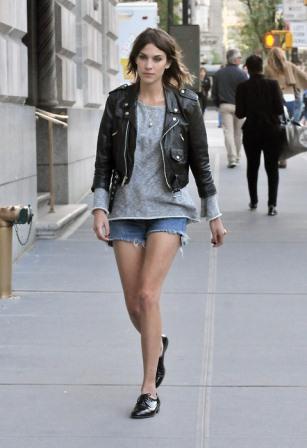 5. Finally, crank up the music and try out your dance moves.
A quick scan of video clips on YouTube shows loads of dancers rocking their brogues – check out Moloko here. So I'm hoping that wearing these babies will make me dance better.
Where to buy?
There are sales everywhere at the moment – on and off line, so finding a pair, at a great price shouldn't be a problem.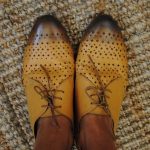 I just bought these, which have a great worn in look, and the light colour is proving  versatile with my summer wardrobe.
I just gave them a spin in our 'lounge room disco' with the boys, and I think I'm dancing 15% better wearing these, so my theory might be true.
What is your favourite way to wear your brogues, and do they make YOU dance better?